TimberSoy – Natural Wood Stain

TimberSoy will save time, materials and costs without jeopardizing your health or the environment.  This is the best wood stain for your project – indoors or outdoors.
TimberSoy is a penetrating semi-transparent non toxic wood stain – with no odor. It is a bio-based stain formulated with natural plant oil emulsion chemistry. TimberSoy uniquely balances the advantages of an oil based stain but in a water based system. It is able to deeply penetrate into wood fibers to rejuvenate, preserve and protect. It will integrally bond and colorize wood surfaces to highlight its natural beauty and will never flake or peel. You may also choose non toxic matte or gloss topcoats for added protection and/or washability.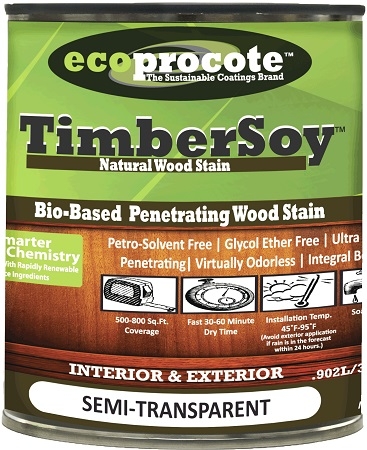 Intended Uses: Decks, Floors, Siding, Furniture, Sheds, Cabins, Fences
Attributes and Benefits:
35 standard colors. Mix colors for virtually unlimited colors.
Infrared Reflective (I.R.) non-fading wood color options for extreme outdoor conditions.
Available in 2 oz. samples to try before committing to a larger quantity.
No VOC's, no toxic off-gassing, no crystalline silica and no solvent odor.
Fast dry times – usually within 1 hour.  Allows your project to go quickly for a fast return to use.
A breathable wood stain that allows moisture to escape and wood to breath.
Very high coverage rates of 400-600 sq. ft. per gallon.
Apply by spraying, wiping on or with a pad.
Fast cleanup with just soap and water
Learn more at www.ecoprocote.com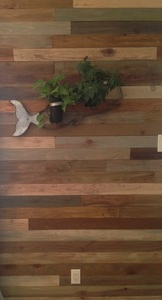 Barbara used several colors to create a very attractive wall in her home. Come into the store to see an actual sample wall she made for the showroom.  While you're here, choose your favorite color for your next project.