Why a Savvy Rest Mattress?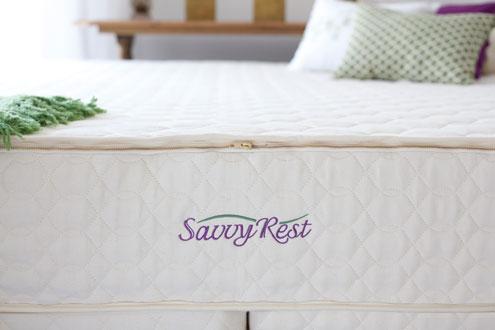 Savvy Rest mattresses continue to rate as a top value in mattresses today for several good reasons.  We've listed a few below!
Health
Toxic chemicals are used extensively in the mattress industry.  Whether it's a chemical fire retardant or petro-based synthetic foams, the long-term effects are uncertain and worry healthcare providers and parents alike.  Savvy offers a wonderful crib mattress!
All Savvy Rest Organic Mattresses are made of natural Dunlop or Talalay latex rubber, with durable casings of certified organic wool and certified organic cotton.  The wool component provides the required fire resistance without the dangerous chemicals.
Comfort
The organic latex foam in a Savvy Rest is comfortable, supportive and pressure relieving. This mattress will respond to your body and nighttime movement like no other.
A Savvy Rest Organic mattress is made of 3″ layers of latex – up to 4 layers. You choose your firmness level and can even choose different comfort levels for each side.
Durability
A Savvy Rest Mattress carries a 20 year warranty – many folks find a latex mattress will last up to 40 years, which is 2-3 times longer than a conventional mattress.
We look forward to helping you choose the perfect organic mattress!  To learn more about Savvy Rest visit www.savvyrest.com or call us at 505-821-6259.  Visit our showroom and feel the comfort!  We're open 6 days a week – during nap time!