EcoFast – The Friendly Stripper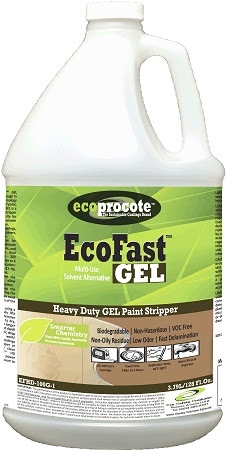 EcoFast Stripper is the latest breakthrough in solvent replacement cleaning technology used to safely strip multiple layers of paint, coatings and adhesives. EcoFast is a powerful low odor, non-hazardous, non-flammable, biodegradable, eco-friendly paint stripper.   This high performance paint stripper is formulated to replace hazardous solvents such as Methylene Chloride, Mineral Spirits, Naptha, Toluene, etc.
Unlike other competitive products, EcoFast has a neutral pH to work safely on a broader range of substrates such as concrete, masonry, wood, metal and most plastics. EcoFast GEL works faster by penetrating through the coating to delaminate or break the bond rather than dissolving the coating. This delamination process is not only safer to use on various substrate materials, it allows easier and more efficient residue cleaning which is imperative if applying a new coating system.
Available in HD or Gel formulas.  The GEL is formulated with a thick gel-like viscosity for optimum vertical cling that allows longer dwell time. The thicker viscosity also allows more material to be applied for unusually difficult coatings and to overcome horizontal surfaces that are uneven which may prohibit uniform distribution of a thinner viscosity material.