Deco-Poz – Concrete Micro-topping is a favorite product at Southwest Green Building Center.  This product can be skim troweled onto virtually any existing surface and/or material – used for updating counters and showers or re-surfacing floors.  The best part is no deconstruction is needed and no waste to the landfill – simply apply over any existing material or new formaldehyde free underlayment.
Deco-Poz Decorative Concrete Pozzolan Resurfacing System is a special high performance, cementitious eco-blend utilizing a custom 100% post industrial recycled white pozzolanic mineral additive that is combined with a non-hazardous polymer.  The aggressive bonding over existing substrates and difficult adhesives saves hours, or even days, of demolition, stripping, etching, or grinding and takes the guesswork out of evaluating proper porosity or color results.
Unlike silica fume, coal fly ash, furnace slag and other by-products, the pozzolans are free of iron, manganese, and other undesirable color-inducing impurities. Deco-Poz Cement Mix is available in white for an optimum color-neutral substrate that enables more true and brilliant colors. Or choose the gray mix for a more conventional concrete base.
The Deco-Poz surface is formulated for SoyCrete Concrete Stain and is compatible with other concrete stains and coating systems that require a durable, porous cementitious substrate.
Use to resurface: ◊ Floors   ◊ Walls   ◊ Decks   ◊ Sidewalks   ◊ Pavements   ◊ Countertops   ◊ Artistic Displays
Adheres to:  ◊ Concrete   ◊ Wood   ◊ Metal   ◊ Gypsum   ◊ Coatings   ◊ Adhesives   ◊ Tiles   ◊ Laminates   ◊ Asphalt
System Kit:    (1) Gallon Deco-Poz Polymer Concentrate & (1) 42 lb Pail Deco-Poz Cement Mix – $124.90/kit or $.71/sq. ft.
(Skim coat coverage approximately 150-200 sq. ft. in two coats @ 1/16″ per kit depending on surface texture, porosity and application method)
Visit  http://www.ecoprocote.com for complete information and installation instructions.
Deco-Poz Concrete Micro-topping Floors
Deco-Poz was originally designed to resurface floors.  Damaged concrete and floors where tile, vinyl or glued carpet have been removed are perfect candidates for Deco-Poz.  After scraping and cleaning your floor, Deco-Poz is troweled or floated on.  Many tile floors can be resurfaced without removing the tile at all.  After drying, apply a SoyCrete stain and finish with eco-friendly sealers and topcoats.  The Downtown Hyatt has used the products as well as many DIY customers.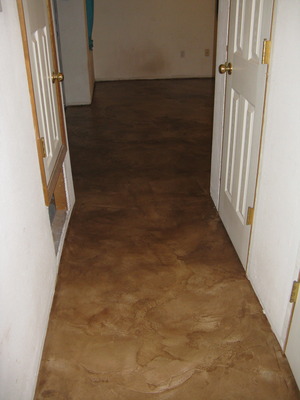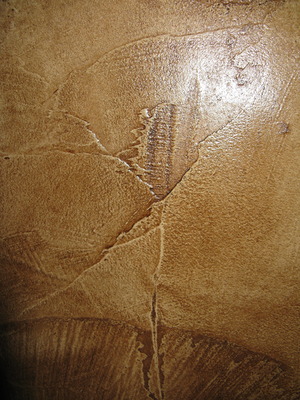 The floor above was resurfaced and stained by Christie, a regular customer and DIYer.  She did a great job and the staining is beautiful.  The above photo shows Christie's hallway leading into a larger room, as you can see, she completed a large area.  The next photo is a close-up of the finish.  Great job Christie and thanks for taking the time to send photos!  You can also achieve a high gloss wet look, or higher mil matte finish, with Eco-Tuff Clear Coat.
Deco-Poz Concrete Micro-topping Counters
During the past few years, Deco-Poz has become popular for resurfacing countertops, backsplashes and shower enclosures.  Again, it is simply troweled onto your existing formica, marble, or tiled surface.  This makes for an extremely affordable update for either the DIYer or when hiring our professional installer.  Below are photos of both DIY projects and professional installations by Solamente Clay.
This turquoise counter is from my townhome and I was able to do the entire project myself!  It was formally 4″ tiles, some cracked.  After 2 coats, I settled for a somewhat textured surface.  I must admit – the rounded backsplash top was challenging.  I could have sanded the surface to create a smoother texture, but the high mil finish ended up smoothing it for me.  I mixed the green and blue SoyCrete stains to create a custom turquoise.  After the stain dried, 2 coats of Eco-Tuff were applied.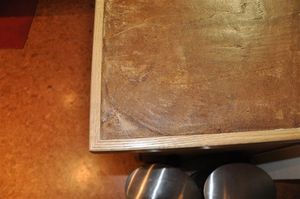 The photos above show my island counter (and a glimpse of cork flooring!).  It started as an outdated burnt orange formica surface.  My contractor secured a 2×10 to one side to enlarge the island and nailed the oak trim to the edges – about 1/16″ higher than the existing formica.  This created a nice 'form' to spread the Deco-Poz.  Using a 'magic trowel' that looks like a squeegee, I got a pretty smooth surface.  The irregularities just add character and a personal touch!  I stained it first with a light brown, followed by a darker brown.  Again, the finish can be a high-gloss, wet look too.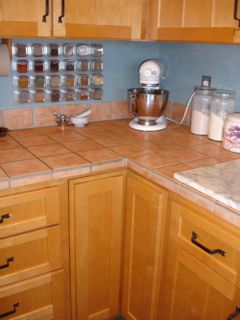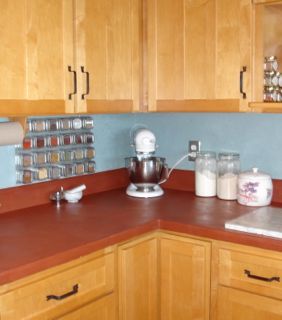 The above before and after photos show a professional application by Solamente Clay.  This look was obtained by adding the color directly into the DecoPoz wet mix.  After a seal and finish coat, it is absolutely gorgeous and looks most similar to solid concrete counters.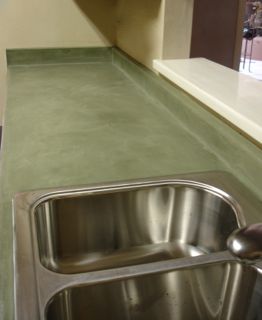 Another professional counter by Solamente Clay.  Solamente offers complimentary in-home estimates, give them a call at 505-205-6010.  You will be pleasantly surprised by the affordablity – a fraction of the cost of granite or similar surfaces!